Officers and Members
Rici Dale – President
William Pfalzgraf– Vice-President
Evelyn White-Simmons – Secretary/Treasurer

Katie Bagley
Dr. Sandra Labak-Ivanauskas
Kate Lance
Travis McDonald
Bill Truemper
---
Board Minutes & Agendas
2020
January 16, 2020 (Minutes)
January 16, 2020 (Agenda)
June 18, 2020 (Minutes)
June 18, 2020 (Agenda)
July 16, 2020 (Minutes)
July 16, 2020 (Agenda)
September 17, 2020 (Minutes)
September 17, 2020 (Agenda)
November 19, 2020 (Minutes)
November 19, 2020 (Agenda)

Archives
---
Get to know YSB's Board Members
Jeff Demoss
Board Member
I am a single Dad raising (3) children. Carley, age 23, just graduated from St. Francis Nursing School in Peoria. Ashley, age 21, currently a junior at the University of Illinois Champagne in the Gies School of Business. Ryan, age 18, is a senior at Ottawa Township High School and will be attending Western Illinois University in the fall. I am a graduate of Western Illinois University with a Bachelor's of Business. I have been a Manager at Caterpillar, Inc. for 30 Years working in Aurora and Pontiac.
I have always worked with the youth in the LaSalle County area. Coaching both travel baseball and travel football, the kids I coached were kids whose families had money and had not endured many hardships. By joining the Board at YSB, I have been able to help children that have been a little less fortunate. It's a wonderful thing when you are part of an organization that gives to the underprivileged and makes their lives a little better.
2021 Christmas was one of the best times for the kids since I have been with the organization. It was amazing how many donations were given to ensure that the kids had a very Merry Christmas. Also, the organization has grown without denying children and families the care and help that they need. Financially, the organization has never been better.
My goals are to continue to serve the Illinois Valley area children and families who are in need of help. I also want to continue to grow the organization to continue to meet the needs of the community.
YSB continues to hold their standards high in ensuring the health and safety of the families that they serve. Many checks and balances are in place to help accomplish this and keep the quality of the organization high.
If you would like to contact me with any questions or concern, please feel free to email me at Demo11@sbcglobal.net
Katie Bagley
Board Member since May 2018
Meet current board member Katie Bagley, who joined YSB in May of 2018.
Katie is a lifelong resident of Ottawa along with her two "kids" (aka dogs), Margot and Winnie. She has been a teacher for over 14 years, which has given her wonderful opportunities to work with teenagers and currently, elementary-aged students. She accepted a position at Putnam County Elementary School in August of 2019, ending a 10-year career at LaSalle County Detention Home.
Katie believes strongly in the YSB mission ("Helping young people and families succeed by serving them in their home, school, and community"),agency goals and invaluable employees of YSB who contribute to the support and betterment of children, teens and families in our county and throughout northern Illinois. She is proud to be a part of an agency that emulates her values in its day to day operations, stating that "One of the best parts of being involved with YSB has been meeting the many individuals who give their hearts daily to their positions and make our agency what it is."
Since sitting on the Board, Katie has gained significant insight into the programs and services that YSB provides for our communities. She is continuously learning and growing as a board member, and is excited to see YSB continue providing valuable services to the individuals and families in the communities we serve.
Katie's goals include supporting the agency and its employees as they navigate through the daily challenges and rewards of working in the social services field while remaining fiscally responsible and up-to-date with laws, policies and procedures.
Thank you to Katie, and all Board members, for all that you do for this agency! She can be contacted by e-mail at katiebagley78@gmail.com.
For more information on YSB, its Board and programs, you can find us on Facebook under Youth Service Bureau of Illinois Valley.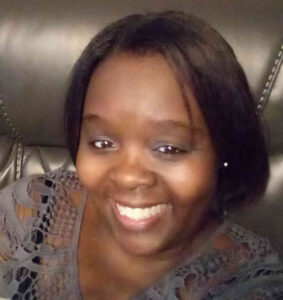 Evelyn White-Simmons
Board Member since September 2019
Please welcome Evelyn White-Simmons to YSB's Board of Directors. Evelyn joined our board in September of 2019. She is very excited to work together with all of the board members and is interested in learning more about all of YSB'S many programs. She feels our programs have a positive impact on the youth and families of our community who need them.
Evelyn is no stranger to keeping children safe and giving them the love that they deserve. She is the mother of four beautiful children, a past foster mom, and now a guardian of her stepson. She is also a proud grandmother of two boys and three girls. Her career, which has been an interesting and fulfilling dream, began when she taught preschool children for 15 years. She later worked with Head Start, the Joliet Junior College Early Childhood program, Illinois Early Intervention, and she currently works with Juvenile Detention.
Evelyn loves to be a part of an agency that continues to strive for excellence. She says "I applaud and commend the work YSB does for the community as a whole. It takes a collaborative effort of all involved persons to enhance the lives of the families we serve." She believes that YSB is a growing agency with a positive name in the community. She has proven to be an excellent addition to our agency.
If you would like to learn more about YSB, please visit the Youth Service Bureau of Illinois Valley on Facebook. To contact Evelyn, you may e-mail her at mydjfinally@gmail.com
Dr. Sandra Labak-Ivanauskas
Board Member since November 2018
YSB would like to welcome Dr. Sandra Labak-Ivanauskas to our Board of Directors.
Dr. Labak has lived in Somonauk, at Lake Holiday, since 1997. She has been married to her husband, Mr. Michael Ivanauskas, for 23 years. They have 1 daughter, Alison, who is currently attending Somonauk High School. Dr. Labak and her family were foster parents for YSB before she joined the board of directors, as she is very passionate about ensuring the safety of children. She is also very dedicated to seeing that children have appropriate access to education and social interaction.
Dr. Labak attended Holy Family Grade School and Boylan Central Catholic High School in Rockford. She later attained her Associates Degree with Honors from Rock Valley College. She then attained her Bachelor's degrees in Biological Science and Physiology, as well as a teacher's certificate in secondary education from Southern Illinois University. She Graduated from CCOM (The Chicago College of Osteopathic Medicine), now Midwestern University, in Downers Grove, IL in 1994. She became a NBOME (National Board of Osteopathic Medical Examiners) Diplomat in 1995 after completing an Osteopathic internship. She completed the remainder of her residency at the University of Illinois Christ Hospital in Oak Lawn in 1997, and became ABFM Board Certified that same year. Dr. Labak practiced in Rural Illinois at Dreyer Medical Group from 1997-2017. During her time at Dreyer Medical Group she served on the Chart Review Board, the QI committee and eventually became Medical Director of the ARCH unit at Hillside Nursing Home. She continued to work with the Extended Care team and maintained her rural practice until she signed on with MercyHealth Rockford in August of 2017. Dr. Labak is looking forward to helping develop the new Family Med Residency Program at MercyHealth as a member of the core faculty and will continue to serve as a Primary Care Physician in her current practice location in Belvidere.
Dr. Labak is very excited to help develop and implement new opportunities for children in northern Illinois, in whatever way that she can. She is currently acting as the chairman for our Fund Development committee.
She is also hoping to help make YSB more profitable, for the children's sakes. She says "I hope to help develop new and support current programs offered through YSB. I am also hopeful to help find new and exciting ways to help support these programs!"
Bill Truemper
Board Member since January 2021
Bill is a retired lawyer, after 40 years of private practice. He been married to his wife, Marti, for 28 years. They have raised four children who continue to live in this general area with their families. Marti is a retired teacher, having taught English at Lisle Senior High School for most of her carrier. They have lived in their current house in Sugar Grove for almost 22 years. Bill and Marti own, along with two other owners, the building that YSB's Aurora office occupies.
Having only served for several months, Bill is still in the process of becoming familiar with the operation of the organization and the individuals involved. Bill has not been on the board long enough to identify any meaningful goals for YSB. Bill says, "Personally, my goal is to help YSB in any way that I am able to do so". Bill states he is honored to be chosen to serve on the YSB Board and hopes that he can make a meaningful contribution to the operation of the organization.
Bill is also on the Board of Director's Audit and Personnel Committees.
If you have any questions for him please fell free to email him at FritzTrump@aol.com
Bill Pfalzgraff
Board Member since January 2020
Bill retired as Director of Court Services for the Thirteenth Judicial Circuit in 2019. He also served as Director of Probation Services and Assistant Director of Juvenile Detention Services.
Bill was the Director of the Illinois Valley Crime Prevention Commission from 1978-1984.
Bill and his wife Cindy have been married for 44 years. They have two adult children and four grandchildren.
Bill first became aware of and involved with YSBIV in 1978. He has a long history with the agency. Bill is particularly fond of the juvenile justice programs that he was previously involved with-Redeploy Illinois and Second Chance.
Bill enjoys being a part of the YSBIV Board because it somewhat keeps him involved with juvenile issues that he worked on while actively employed in the field. Due to Covid, the Board has not been involved in any activities, but Bill is looking forward to fundraising events returning. Bill's states his goal for YSBIV is "to continue the many services it currently offers as well as keeping a strong financial position".
Bill is also on the YSB Board of Director's Audit and Personnel Committees.
YSBIV is lucky to have Bill on the Board of Directors!
If you have any questions for him please fell free to email him at wpfalzgraf@gmail.com
Travis McDonald
One of our newest board members.
Travis was born and raised in LaSalle County, spending his childhood in Ottawa. Upon graduating Ottawa Township Highschool, he enlisted in the US Army. Travis served in the 82nd Airborne Division and was deployed multiple times, including during the invasion of Iraq in 2003.
Upon leaving active duty, Travis became a police officer. He spent 11 years in Law Enforcement with roles as a training officer, detective, SWAT team member, and a Patrol Sergeant. In 2015, Travis entered a career in financial services. He currently is the Owner/Agent of Travis McDonald State Farm in DeKalb IL.
Travis currently resides in Woodstock with his wife and two children. He is an active member of the community, volunteering in youth sports, the local VFW, and various charities. His education includes graduating from Northwestern University's School of Police Staff and Command.
Since joining the Board, he has become the Chair of the Finance Committee which oversees all financial aspects of the YSB. If you would like to contact Travis you can email him at travis@travismyagent.com
For more information on YSB, its Board and programs, please visit our website at www.ysbiv.org, or you can find us on Facebook under Youth Service Bureau of Illinois Valley.